The UNIFAT teachers' enthusiasm for launching student projects based on the Sustainable Development Goals was tempered by the lack of funds available to provide basic resources. To overcome this roadblock, Words Into Deeds and FOU introduced a Mini-grant program. Teachers were invited to submit on-line applications that describe alignment with at least one of the Goals, the number of participating students, and the estimated cost of supplies. They are responsible to keeping accurate accounts of expenditures and, in some cases, revenues that can be used to sustain their projects and/or given to the school scholarship fund.
Despite the hardships of the pandemic, six project grants have been submitted; five are in progress and the sixth is pending revisions.
---
Traditional Bead-Work to Support Education
Drawing upon teachers' skills, students were taught how to make beads from paper and craft them into jewelry and purses. The items have been sold in Gulu and the USA, with all proceeds – thus far over $1,500 – going to the UNIFAT Scholarship Fund.
Students learning how to make paper beads and use them to make jewelry and purses.
---
Vegetable Garden to Support a Healthy Community
Students met with experienced farmers to identify the best possible site on campus for a garden, then cleared the land and in December, 2020 planted their first crop: cowpeas. Three months later these were harvested. The leaf cuttings were prepared for school lunches and also sold to a local green-grocery, with proceeds used to purchase seeds for the next planting, which includes onions.
---
COVID-19 Awareness and Education
Two projects engaged students in learning about infectious viruses using on-line resources in the Digital Learning Center, and then becoming involved in helping their families and community take important preventive measures.  In the first project, students filled small bottles with sanitizing soap and distributed them in the community. All students were provided with masks made at the Wawoto Kacel women's cooperative in Gulu.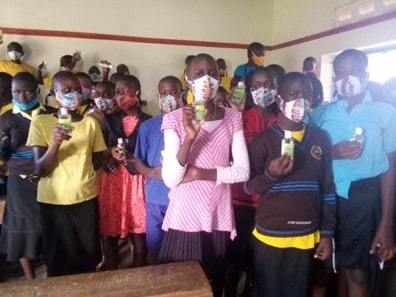 The second project was a scaling-up of the first. Here students made the soap by mixing ingredients in large barrels. The liquid soaps were decanted into both 1-gallon and smaller, hand-held bottles for sales and distribution to the community.
---
UNIFAT Student e-Newsletter
Working with teachers and a local media specialist, students wrote essays and through research and interviews were working on their first newsletter when the school closed in June, 2021. Their goal is to make this widely available throughout the Gulu community.

P5 (6th grade) writers and editors for the UNIFAT School Student e-Newsletter.