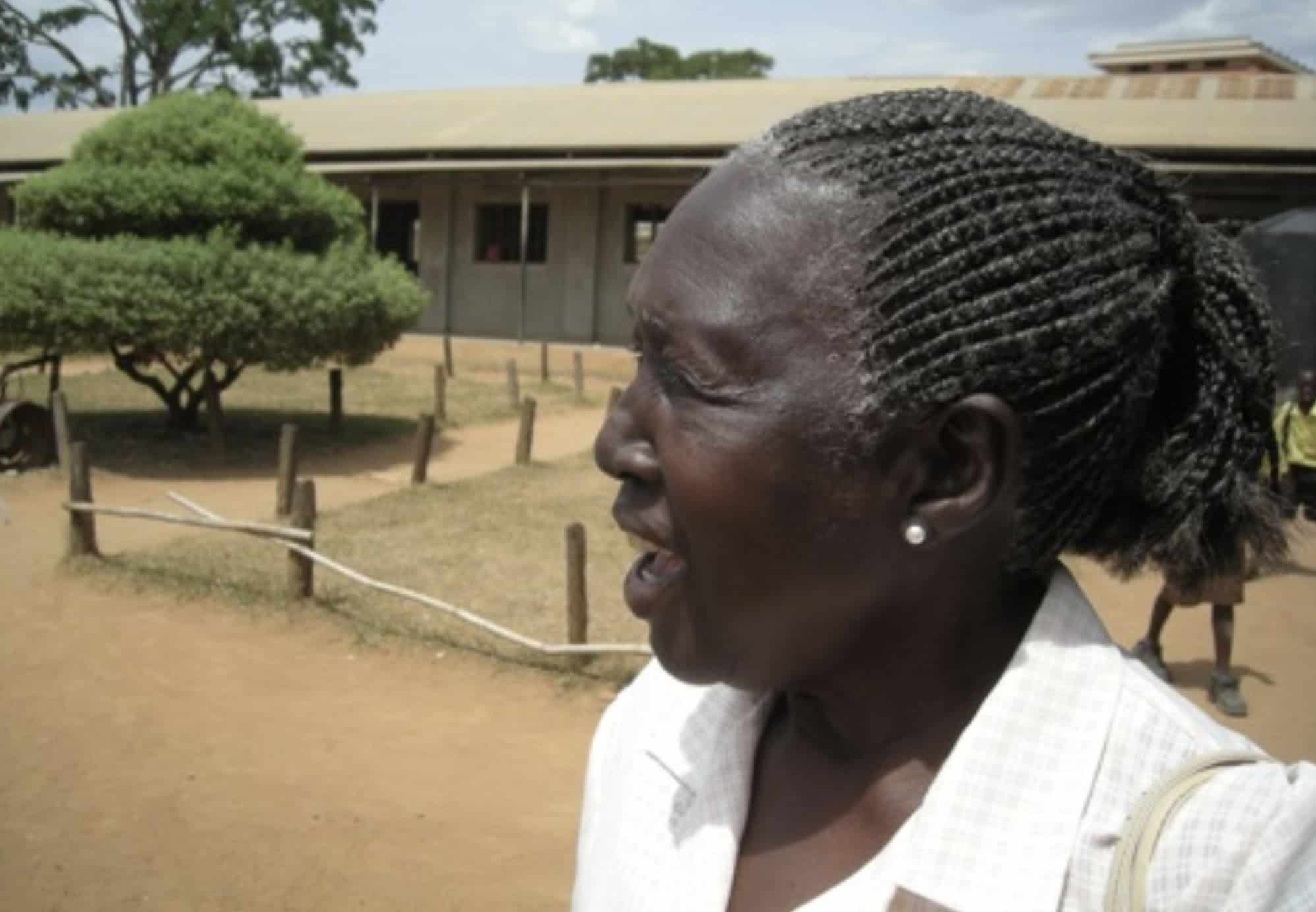 Abitimo on the UNIFAT campus, 2007.
Abitimo Rebecca Odongkara was born in eastern Uganda in 1934, and by age 20 had married and started a family while also teaching nutrition and hygiene in rural communities. When Idi Amin took power in Uganda in 1971, he took aggressive actions to silence those who supported opposition. Among them was Abitimo's husband John Brown Odongkara, a distinguished police officer in Gulu. In 1974 the Odongkara family fled, barely escaped with their lives. They sought refuge in Philadelphia, USA, but never lost hope of returning to their homeland.
During the following decade, Abitimo pursued higher education, eventually completing a Masters degree while raising her family. Amin was overthrown in 1979, and while the country continued to suffer from ongoing civil and military conflicts, the situation in Northern Uganda gave Abitimo confidence that by 1983 it was safe to return home. However, political upheavals of the post-Amin period led to outbreaks of hostilities by marauding bands of terrorists, who subsequently became loyal to Joseph Kony and his Lord's Resistance Army. Abitimo and her family were forced to abandon their rural setting and move to the relative safety of Gulu.
Observing several boys – which she learned were orphans – play "war games" near her home, she gathered eight of them together, offered them sanctuary, and began giving them lessons. Some were traditional education – writing and mathematics – which the students practiced using sticks to write in the ground because chalk and boards were not available. But underlying these was the emphasis that Abitimo and the group of other mothers/teachers she recruited placed on replacing these children's hate and fear with love and security.
From this humble beginning grew the UNIFAT Primary School, the first private primary school in Uganda, eventually serving 1500 children, mostly refugees, and the mantra: Learning Through Love and Understanding.
The situation during the 1990's and early 2000's got worse, with armed violent conflicts ravishing rural Northern Ugandan and southern Sudanese communities and the outbreak of the HIV-AIDS epidemic, so much so that even camps housing 10's of thousands refugees were under seige. An estimated 20,000 children were abducted and forced to serve as child soldiers. Many thousands of families living throughout Northern Uganda sought refuge in Gulu.
During the surge of refugee families, the UNIFAT school operated from several venues, including an abandoned railway station, and increasingly received support from Gulu city administrations. The combined educational – compassionate approach paid dividends in two notable aspects: UNIFAT students consistently achieved the highest scores on national tests taken for advancement to high school; and students, teachers, and parents found that UNIFAT's approach helped their children regain positive outlooks, respect and caring for one another, and happiness. In 1994 the City of Gulu officially gave Abitimo title to land on what was then the western edge of city. This continues to serve as the campus.